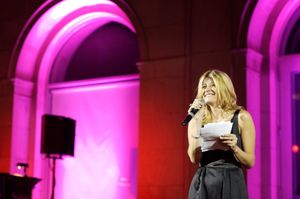 Discover how to make your wedding toast dazzle your guests!
Did you know that the morning after a wedding, the attendees are very likely to talk about the speeches? 
Yes, it's true. Forget the dress, the cake, the music, or even the food, it's the speeches that really can make or break the day. Unfortunately, too often they are the one part of the celebration that remains unplanned and, as a result, can actually leave guests – or the bride and groom – a little unimpressed, embarrassed, and even bored. 
So how do you write a brilliant speech with the right balance of romance and fun? We spoke to Lawrence Bernstein of Great Speech Writing, a company that helps write speeches for weddings around the world. 
"Whether it's the best man, the father of the bride, or a maid of honor, the most important tip is to be relevant. You are speaking because you know at least one [half] of the couple incredibly well. That means you will have a huge amount you want to say – including stories, jokes, and more sentimental thoughts. The problem is that many of the guests won't care quite as much as you. They will just want to be entertained, and to enjoy the speech even if they are one removed from the main subject." 
Here are six tips to ensure you go about writing your speech the best way: 
1. Work backwards. Rather than deciding what you'd like to say, think about what your audience will want to hear. Try to include something for everyone.
2. Be collegiate. Don't just run through your own memories and personal stories. Contact friends and family to gather original anecdotes about the happy couple. 3. Map out an outline. Have an outline for the speech that has a sensible balance between sincerity and humor. See how the sections fit together before spending too much time writing them, and determine if the balance looks right before you begin.
4. Keep the speech brief. The ideal length is 8-10 minutes. That's a maximum of 1,200 words if you deliver them nice and slowly.
5. Practice. Recite the speech out loud as much as possible. Read it clearly and emphasize key words.
6. Be informed. Find out where you'll be standing, whether there will be a microphone, and if there will be somewhere to rest your notes. Don't be put off by surprises on the big day! 
For more specific advice, read on to discover Lawrence's top tips for various members of the wedding party: 
Groom Speech 
· Early on, drop in the olden but golden, "My wife and I….." It doesn't matter how many times guests have heard it before, it will always receive a warm cheer and set your nerves at rest. 
· Try to avoid long lists of thank yous. It's best to tie these in with stories and anecdotes wherever possible. 
· Include a heartfelt toast to the bridesmaids. These are quite likely your bride's best friends, so mention how beautiful they are and what supportive friends they've been to your new wife. 
Bride Speech 
· Avoid repetition! The best man, your father, and your husband are likely to thank a lot of people and cover quite a bit of common ground. So try to think of an original angle for your speech. 
· Ask a friend to keep your script safe until you need it. There's very rarely a pocket in a wedding dress! 
· End with a toast, but try not to repeat one of the traditional toasts given by other speakers. Use this opportunity to thank your hosts (typically mom and dad) or propose a toast to friends and family. 
Father-of-the-Bride Speech 
· Don't turn your speech into a job application on behalf of your daughter.  It's fine to mention some of her achievements, but be aware of listing facts and figures in chronological order. 
· Consult the other speakers to check there is no frustrating overlap of content. 
Mother-of-the Bride Speech 
· A mother-daughter relationship is a very special one, so a bit of sentimentality in the speech is expected… up to a point. Try to intersperse this with some lighter teasing for balance. 
· Try to have a little fun at your own expense. Guests warm to self-deprecating humor. 
· It is courteous to mention the in-laws and note how welcoming the groom's family have been to your daughter. 
Best Man Speech 
· Remember your audience and try to keep your speech material as universal as possible. Not everyone will want to hear exactly what happened at the bachelor party. 
· Avoid stand-alone jokes. Punch lines that fall flat can be a nightmare for any speaker, and there are plenty of ways to make people laugh without them. 
· Keep it clean! Avoid crude jokes and do not mention an ex-girlfriend. 
Maid-of-Honor Speech 
· However tempting, try and avoid drinking too much alcohol before you stand up and speak. It could affect your delivery for the worse. 
· Some brides and maids of honor like to write their speeches in rhyme format. Whilst this is original, it can be hard to sustain. Maybe just go for a few verses rather than the whole speech. 
· Try not to gush! Be lovely, but this isn't the time to repeat a dozen times how much you love your friend.

(photo by Artisan Events)